What's the Cost to Repair a Central AC Unit in My Portland Home?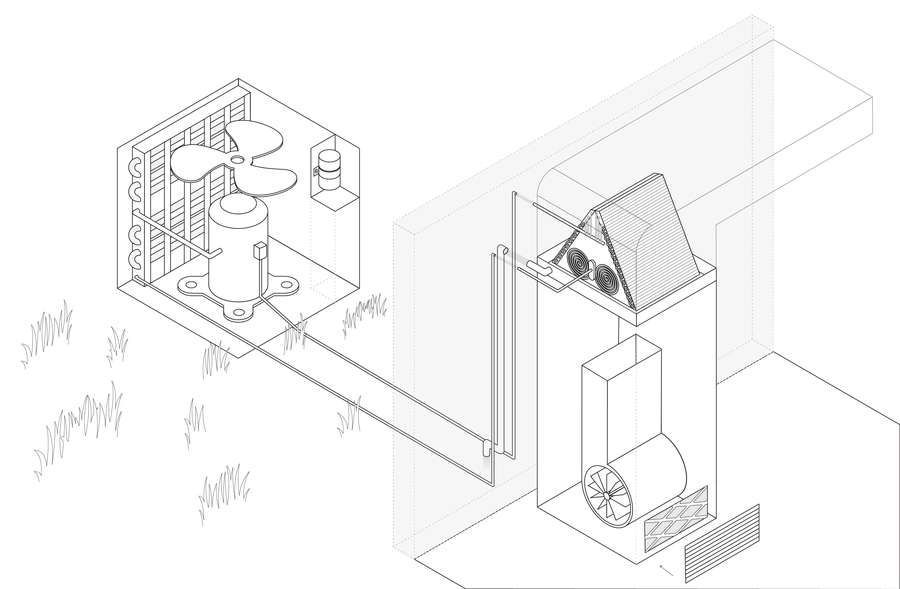 If you have a broken central AC, the first thing you're thinking about is how much it will cost to repair. The cost to repair a central AC in Portland can range from $89 to $3,000.
Four factors that affect a central AC's repair cost are the:
Age of your AC system
Parts that need repair or replacement
Validity of your AC's warranty
Contractor you hire for the repair
We'll cover these factors in-depth below and explain how they impact your central AC repair cost. However, if you're looking for a more precise cost estimate, you'll need to hire an HVAC technician to diagnose your AC unit.
------
Want your central AC repaired ASAP?
Contact our team to have your AC issue diagnosed. Our Portland technicians are North American Technician Excellence (NATE) certified. Plus, all of our repairs start with a thorough diagnostic, after which we will provide a written estimate for you to sign off on before we perform any services.
Schedule AC repair
Cost factor #1: Age of AC system
Typically, the older your AC is, the higher your repair cost will be. If your broken AC is around 15 years old, it's near the end of its lifespan. Older ACs also probably have more worn-out parts that need replacement.
AC systems that are 15+ years old are also likely to use a type of refrigerant called R-22. Manufacturers are no longer allowed to use R-22 during production because the refrigerant type is bad for the environment. Due to this manufacturing "phase-out", the supply of R-22 is dwindling so it's typically very expensive to repair an AC that uses R-22. That said, most HVAC homeowners with aging AC units that use R-22 tend to proactively upgrade their entire system to one that uses R-410A (a newer, more environmentally-friendly refrigerant).
Even if your AC doesn't use R-22, sometimes it's more prudent to replace the entire AC system rather than continuing to dump money into a sinkhole. A licensed technician can help you determine if it's better to replace parts or everything.
How do I check how old my AC is?
You can find the manufacturer's date for your AC on the outside unit's metal nameplate. The nameplate will have "MONTH YEAR" or "MFR DATE" at the top (the manufacturer's date is typically part of the serial number's code sequence).
If the nameplate doesn't spell it out for you, you might have to do some digging. Copy down the model and serial numbers of the AC unit.
Now you have three ways to decipher the model and serial numbers:
Put the model and serial numbers into a search engine along with the brand name. The search results should show up with the manufacturer's date.
Find your AC's brand in the Building Center's database. Click on your brand's link for a manual that explains how to match the numbers to the manufacturer's date.
Call an HVAC contractor with the info and they can decipher your AC's age for you.
How do I check if my AC uses R-22 refrigerant?
You can find what type of refrigerant you have on the AC unit's manufacturer sticker. The refrigerant type will be labeled with "FIELD CHARGED." Look for either R-22 or HCFC-22.
Cost factor #2: Broken AC part(s) that need repair or replacement
The repair cost increases depending on which (and how many) AC parts are faulty.
If an AC part has complex mechanisms, it will cost more to replace than the simpler AC parts. One vital part of the AC unit could cost more to repair than many minor parts breaking. For example, the compressor is an essential part of the AC and could cost up to $3k to fix. Due to the expense, most people opt to replace the whole unit instead of replacing just the compressor.
Below, we've listed nine common AC part repairs in Portland and their cost ranges to help you estimate repair cost:
Blower motor: $1,000-$2,000
Capacitor: $200-$450
Circuit board: $200-$850
Compressor: $800-$3,500
Condenser fan motor: $250-$1,100
Contactor: $200-$350
Evaporator coil: $850-$3,000
Refrigerant leak search (doesn't typically include the cost of actual repair): $200-$600
Refrigerant recharge: $230-$1,500
Thermostat: $130-$500
Cost factor #3: Whether your AC warranty is still valid
Having a valid warranty will help reduce your repair cost.
Two types of AC warranties that could help reduce your repair cost include the:
Manufacturer's warranty: The manufacturer's warranty covers the cost to replace expensive parts (e.g. the compressor) for you. Manufacturing warranties last 1-10 years. If you have an extended warranty, it could go on for 5+ more years.
Labor warranty: An HVAC labor warranty covers the labor cost of repair when the contractor who installed the AC unit is at fault for the repair. Labor warranties start from installation date and typically last one year. If you have an extended policy, it could be 5+ years total.
How do I check if my manufacturer's warranty is still valid?
The manufacturer's warranty helps the most in decreasing your repair cost. Warranty only covers parts and doesn't include labor and shipping. You want to find your AC model number, which is located on the unit's manufacturer sticker.
Go to your manufacturer's website and search for your AC model number. The website will tell you if your warranty is still valid.
You can also take the AC model number and contact the:
Portland branch of your AC manufacturer
Contractor you hire for the repair
Be careful about voiding your current manufacturer's warranty by accident.
Manufacturers typically void the warranty if you have not:
Registered your AC within 90 days (on average) of installation with the manufacturer. The timeframe depends on the manufacturer.
Had annual maintenance performed on the system by a licensed professional
Used only OEM (original equipment manufacturer) parts for any needed part replacements versus any off-brand replacement parts
How do I check if my labor warranty is still valid?
Reach out to the contractor that installed your system.
Cost factor #4: Which contractor you choose to work with
Contractors who get the repair done right the first time cost more.
Keep in mind, though, that paying more upfront for a higher-quality contractor will save you money in the long run. High-quality contractors have the experience needed to repair your AC correctly which means you run a lower risk of needing the same part(s) repaired again.
To find a high-quality contractor, you want to look for a contractor who has a great community reputation. You can check for community reputation by looking up how long the contractor has been in business. If they have been in business for 10+ years, they have a track record and your neighbors will have opinions about their service. To see how fellow Portlanders feel about the contractor, you can browse online customer reviews on Google, Yelp or the Better Business Bureau.
That said, regardless of which contractor you pick, you'll need to budget for two types of fees associated with your repair.
Two types of fees that come with every AC repair cost include the:
Diagnostic Fee: A diagnostic fee is a separate charge from the repair work cost. It's the price charged to determine what's wrong with the AC. The fee can run between $89-$129. Diagnostic fees can increase if the repair call is after-hours on the weekend.
Repair Fee: Contractors can charge for the repair work in one of two ways: some contractors charge by the hour and others charge upfront flat-rate fees. The con of hourly rates is that contractors could take unnecessary time to up-charge you. Whereas, an upfront flat-rate fee means you'll never pay more for extra labor hours.
Need a certified central AC repair tech in the Portland area? Contact Four Seasons
Our customers choose us because we have the best service and price in Portland. We've been in business for 40+ years and train our technicians to repair virtually every brand. Also, our repair services are competitively priced and we always provide an upfront, flat-rate estimate and 100% money-back guarantee for all repairs.
Ready to work with a company that puts your needs first? Schedule an AC repair today by clicking below or calling us at 503-538-1950.
We also service Sherwood, Oregon City,Hillsboro and many other areas.
Schedule AC repair