Is a Smart Thermostat Worth It?
Still on the fence about installing a smart thermostat in your home? Wondering if a smart thermostat is worth the money and the effort to install it?
Smart thermostats can be more than worth it for the right homeowner. With a smart thermostat, you can truly make the most of your heating and cooling system without throwing away money or wasting energy.
So, what's the most significant difference between a smart thermostat and a traditional thermostat?
The benefit of a smart thermostat is its capacity to learn a household's habits and adjust heating and cooling settings accordingly. For example, a smart thermostat will learn when your home is occupied and when your home is about to be occupied, which can majorly impact the use of heating and cooling systems when nobody is home for considerable periods of time.
The following benefits may make installing a smart thermostat worthwhile for many homeowners:
Energy savings
Remote access
Convenience and comfort
This article will go over what makes smart thermostats worth it in greater detail.
Learn more in our help guide, "What are the Benefits of Smart Thermostats?"
---
Want to schedule a professional thermostat installation with a trusted HVAC professional? Contact Four Seasons at 503-538-1950 or by booking below. Our technicians will be happy to share what makes each model unique and help you select a thermostat that would be best for your home.
Schedule Service
---
Benefit #1: Energy Savings
Smart thermostats can help save you money on your energy bill in a few different ways:
You'll never heat or cool an empty house again. With the ability to view and control your smart thermostat from anywhere, you can simply turn off your heating or cooling system from the palm of your hand. You won't have to worry about remembering to adjust your thermostat's temperature settings before you leave the house.
They can automatically determine and execute optimal temperature settings for maximum energy efficiency. Most smart thermostats come equipped with an "eco" or auto home/away feature, which helps you save money when you're not home by automatically raising or lowering the temperature based on outside conditions.
Adaptable timers and room-specific settings allow more control over the amount of energy you're using. Traditional thermostats only offer you the option to set your air conditioner or heater on a basic timer, turn them off completely, or leave them running indefinitely. Smart thermostats provide a variety of control mechanisms to help you save energy.
You can track your energy use. You can view and track your home's energy use, giving you super valuable information about how your household consumes energy. For example, you can see details like how long your HVAC system was running during a given amount of time and information about the climate that can impact or influence your energy usage. When you understand your energy consumption patterns, you can more easily find ways to cut back.
Benefit #2: Remote Access
You can control most smart thermostats via a user-friendly mobile application from your smartphone. That means you can access and control your smart thermostat from anywhere, as long as you have your phone and a network connection.
Quality smart thermostats are also Wi-Fi compatible, so they are accessible from any home computers, laptops, and tablets connected to your home internet network. This level of control can provide significant energy savings.
You'll always have the power to do something if something goes wrong at your home, even if you're not around.
Benefit #3: Convenience and Comfort
If you'd like more control over how your climate control system works, a smart thermostat is the answer you're looking for.
Smart thermostats learn your pattern by connecting to motion sensors that signal when you're up and active. They also learn the times you're most likely to be active to help create an automatic schedule that's ideal for your comfort and energy savings.
Most smart thermostats are uncomplicated to program and help take the guesswork out of keeping your home at exactly the temperature you want. They are easy to use and come equipped with modern touch-screen designs and intuitive, user-friendly smartphone apps.
Ready to Install Your New Smart Thermostat? Call Four Seasons.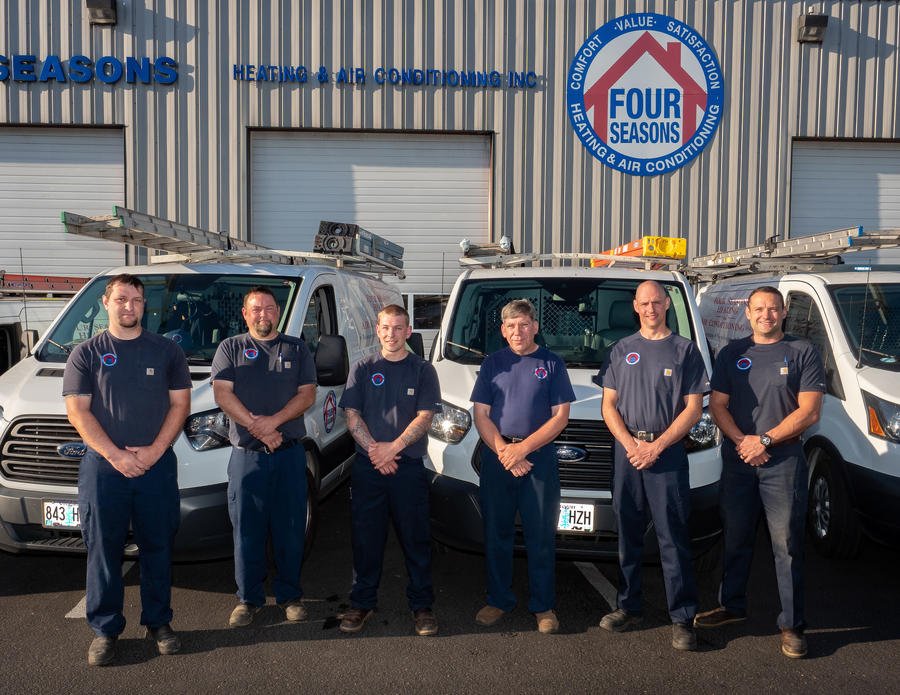 At Four Seasons Heating and Air Conditioning, we complete most of our thermostat installations in just one hour. After the installation is done, we run a series of tests to confirm your system is working perfectly. Plus, we guarantee that if the service you received was not to your satisfaction for any reason, we will come back and make it right—guaranteed. For convenient same-day appointments and honest prices, contact us today at 503-538-1950 or with the button below!
Schedule Service
---
Similar Articles: