How Do I Know if My AC Needs Maintenance?
Schedule AC service once the weather starts to warm up. The ideal time is right before turning the AC system on, like when you're getting ready for summer. If you book too early, dirt and dust will have plenty of time to settle into the nooks and crannies of the system and potentially get distributed into the home's circulation when the AC is turned on.
You should also service your AC when it's starting to become inefficient. If you've ever wondered, "How do I know if my AC needs maintenance?", there are signs that you can keep an eye out for.
Some signs that you might need AC maintenance include the following:
Higher than normal energy bills
Warm or room temperature air blowing
Strange smells or sounds coming from your AC
It's been more than one year since your last service
The benefits of a maintenance plan
Let's go over these signs in more detail so you have a better idea of when to schedule AC maintenance in the greater Portland Metro area.
---
Are you looking for reliable AC maintenance?
Ensure your AC is in the best shape possible by calling Four Seasons Heating & Air Conditioning at 503-538-1950. Our NATE-certified technicians offer good old-fashioned service at affordable prices!

Schedule Service
---
Higher Than Normal Energy Bills
Unless there's a substantial increase in usage, the energy bills should remain relatively consistent. If you notice higher-than-normal energy bills or a steady price increase, it's usually a good sign that the AC needs to be serviced. Several components or parts may be misaligned, or the system may no longer be properly calibrated. As a result, you're using up a lot more energy to get the same results.
Warm or Room Temperature Air Blowing
A quick service can also usually solve why your AC might be blowing warm or room-temperature air. Some of the most common reasons you might be experiencing this phenomenon include clogged air filters, clogged condensate lines, dirty evaporator coils, malfunctioning compressors, refrigerant leaks, duct leaks, and faulty thermostats. These are all problems that can easily be fixed. However, if you fail to correct the problem in a timely manner, it can simmer and worsen.
Strange Sounds or Smells Coming from Your AC
If the culprit behind foul odors is the AC system, you must book a tune-up. Different smells, such as a burning smell, indicate different types of problems, all of which you will want to fix immediately since the cause behind the smell could be detrimental to your family's health.
Some of the most common causes behind an AC's foul odor include:
Rotten eggs. You are likely dealing with either a gas leak or a dead rodent in the ductwork.
Burnt smell. Turn off the AC because the circuit board or fan motor is likely shorting out.
Mildew. There's likely mold or fungus in the AC. We'll do a deep clean during the service to ensure you're not breathing these pathogens into your body.
Feet. The air filter is likely clogged.
During the tune-up, we'll not only fix all of these problems but will also deep clean the entire unit. This gets rid of any other contaminants or pollutants that may be hiding in the crevices.
It's Been More than One Year Since Your Last Service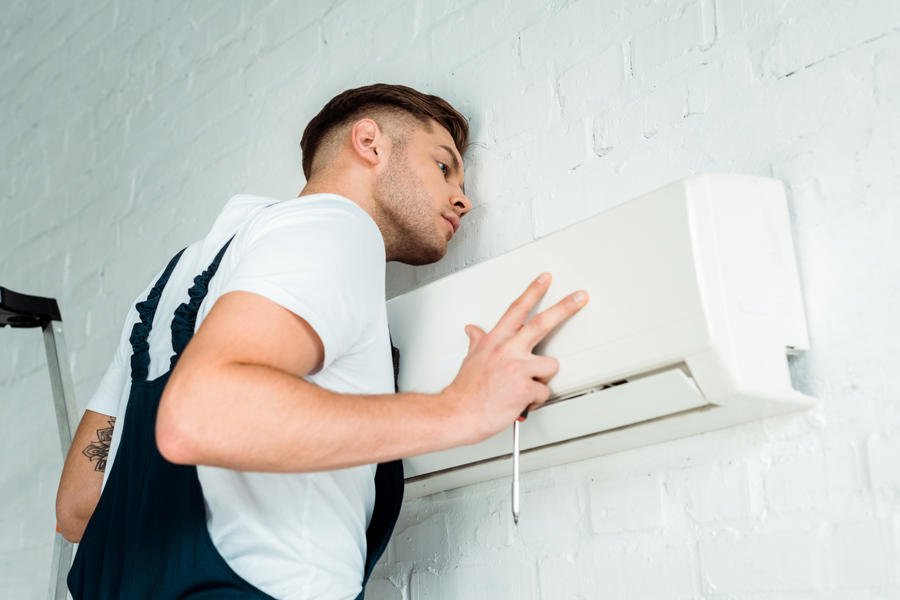 There's a reason why most experts recommend servicing your AC at least once a year. Every year the AC isn't serviced, its overall efficiency can drop by as much as 5%. While you might not notice the drop initially, it can easily add up.
Think about the last time that you had the AC serviced. If it's been over a year, it's high time you call us. During the service, we can assess and evaluate your system to see whether it needs additional attention and care.
The Benefits of a Maintenance Plan
Forgetting to service your AC regularly can have lasting effects on the system. Not only is the AC more prone to breakdowns and failures, but you'll notice a decrease in indoor air quality, a drop in efficiency, and lower overall responsiveness.
Unfortunately, what's out of sight is often out of mind, and many AC systems remain neglected. To ensure you never forget to schedule annual maintenance, join a maintenance plan. You'll enjoy the following and more:
Priority services
Reminders for maintenance
Better overall prices
A higher-performing AC system
Warranty protection
Extended equipment life
With our maintenance plan, you can rejuvenate and service your AC and heating system for just $249. Members enjoy priority scheduling for emergency service calls, 15% off filters and replacement parts, no overtime charges, quick transfer of maintenance agreements when moving to a new home and -- most importantly -- pro-active reminders when it's time to schedule AC maintenance in Portland, Oregon! It's okay if you forget because we will remind you!
---
Looking for AC maintenance in the Portland area?
Call us at 503-538-1950 or schedule an appointment online, and one of our expert technicians can provide you with high-quality AC maintenance. We offer a maintenance plan that includes priority scheduling for emergency service calls for our members and a one-time tune-up.
Four Seasons ensures your AC runs efficiently, so you won't have to worry about it breaking down during the hottest months of the year.
Schedule Service
---
Similar Articles: