How Much Does It Cost to Install a Ductless Heat Pump in Portland?
A ductless heat pump installation in Portland costs between $2,295 and $9,000, with the average running around $4,000 in the metro area.
That's a difference of around $6,000 between the highest and lowest prices. That's not small change. So what's going on to affect the price range so much?
The difference in price comes down to four price factors:
The number of units needed to heat/cool the home, determined by the number of rooms in the home.
The size of the units, determined by the size of the rooms in the home
The efficiency of each unit, determined by the homeowner's budget and desire to lower monthly energy bills.
The labor cost of installing the units, determined by alterations to the home, skill level of the contractor, and other factors.
We'll look at these price factors in more detail in this article. But you're also welcome to call our office at 503-538-1950 or schedule an appointment online if you have any questions about an upcoming ductless heat pump installation.
You may also be interested in learning more about our process, pricing and guarantees. You can find that information on our ductless heat pump installation page.
Schedule free estimate
Price factor #1: Number of ductless units
Unlike traditional heat pumps which consist of a single unit blowing hot and cool air through a duct system, ductless heat pumps rely on multiple indoor/outdoor units to reliably manage temperature throughout the home. The more units your home requires, the more expensive the installation will be.
The number of rooms in your home will closely approximate the number of indoor ductless mini-split units you'll need to heat/cool the entire home.
Ductless systems can be broken down into two types:
Single-zone systems
Multi-zone systems
In a single-zone system, one indoor unit is connected with one outdoor unit through a conduit of refrigerant lines and electrical wires. A studio or small 1-bedroom home could get away with using a single-zone system.
In a multi-zone system, up to eight indoor units can connect to one outdoor unit via a network of conduits. If the number of rooms goes beyond 4, a second outdoor unit will likely be required.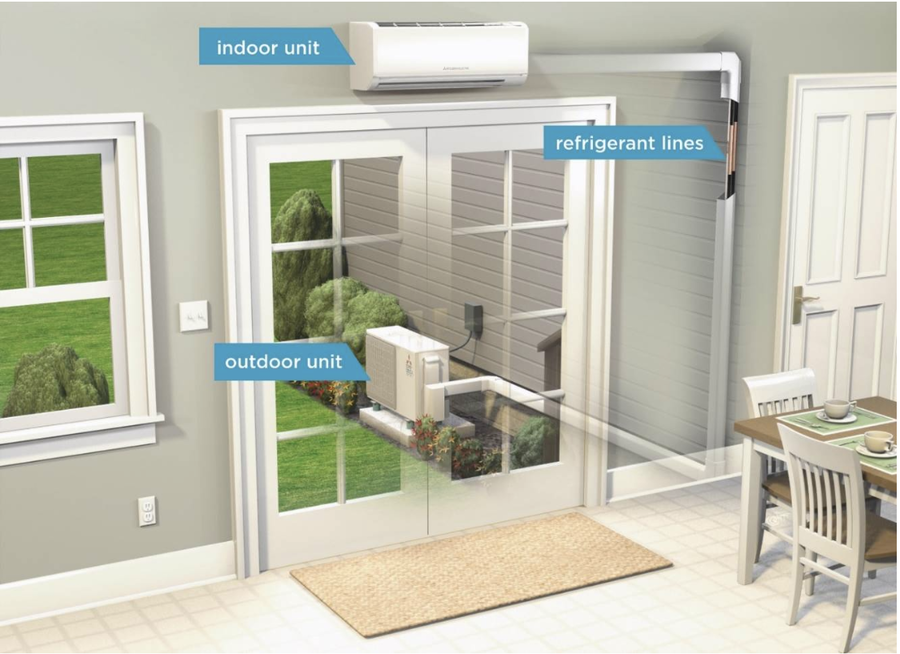 Price factor #2: Size of each ductless unit
Ductless heat pump capacity is determined by room size. As room size increases, the capacity of the indoor unit must increase with it.
When it comes to ductless heat pumps, capacity is measured in British Thermal Units, or BTUs for short. Units with a higher BTU output cost more to purchase and install.
Homeowners stand to gain little from purchasing a ductless heat pump that has less than the suggested BTUs required to heat/cool a room. Units that are too small for a room tend to:
Struggle to heat/cool the room entirely
Cost more in utilities because it has to work harder to manage the room's temperature.
Homeowners can't know for sure how many BTUs a ductless heat pump unit will need until a load calculation has been performed. During a load calculation, an HVAC professional will consider factors such as:
The square footage of the room
The room's insulation
The number of doors and windows
The height of the ceiling
And that's just for starters!
You can schedule a load calculation with one of our NATE-certified HVAC specialists to get a more precise idea of how much the job will cost.
Price factor #3: Efficiency of each ductless unit
Ductless heat pump models can heat or cool a home with varying degrees of efficiency. As the efficiency of a model increases, so does its cost.
A ductless mini-split system measures efficiency on two different scales:

Seasonal Energy Efficiency Ratio (SEER) ratings measure how efficient a system is at cooling your home. Ductless systems range between 14 and 25 SEER. As the SEER rating increases, so does the efficiency of the system.
Heating Season Performance Factor (HSPF) ratings measure the total heat output of the ductless heat pump. An HSPF rating between 8.2 and 10 is a solid bet for the average homeowner. The higher the HSPF, the more efficient the system.
Price factor #4: Labor cost of installing each ductless unit
The more hours a contractor spends on the installation, the more expensive the project will be.
The most important factors which increase the cost of labor for a ductless heat pump installation include:
The number of indoor and outdoor units. Multi-zone systems with four or more indoor units and 2+ outdoor units will need more labor hours to complete.
Alterations to a home's electrical systems. Upgrades to a home's outlets or electrical panel to accommodate a new ductless heat pump could add to the total cost of the install.
The company hired to install the system. The skill and experience level of the contractor will play a part in how much they charge for their labor. The value of a great install isn't apparent until you've had a bad one (which we hope you never do!)
Want the Best Price on a Ductless Heat Pump Installation?
Four Seasons Heating & Air has been serving homeowners in Portland for over 40 years. We're a family-owned company that's dedicated to providing honest and efficient service—for every ductless heat pump installation.
Give us a call at 503-538-1950 or reach out to us online to schedule your no-obligation free estimate today. We have the best pricing in all of Northwest Oregon, guaranteed!
Schedule free estimate