Why Should I Hire NATE‑Certified Technicians?
If you need professional HVAC work and are vetting companies, you may have noticed that some companies present themselves as "NATE-certified" and others do not.
If you're wondering what this title means and whether it is important, read on. We'll explain:
What is a NATE certification?
Why is certification important?
The five benefits of hiring a NATE-certified technician
---
Need an HVAC tech you can trust? Four Seasons technicians are NATE-certified and provide old-fashioned, stress-free service, whatever your HVAC repair troubles may be. Contact us today for 2-hour appointment windows and same-day repair services from NATE-certified, knowledgeable technicians.
Schedule Repair
---
What is a NATE certification?
NATE certification is a specific certification granted by North American Technician Excellence (NATE), the nation's largest non-profit certification organization for the HVAC industry.
Why Is Certification Important?
As mentioned in the video above, it's not required to obtain this certification to work in the HVAC industry. Still, it serves as a mark of distinction for higher-skilled and more knowledgeable technicians. The certification is nationally recognized and is considered the gold standard when it comes to HVAC certifications.
To achieve NATE certification, technicians must first prove basic working knowledge of HVAC safety, tools, and temperature measurements via a series of core training sessions and tests. And then, they take more specialized tests in areas such as installation or service/repairs. If they pass the specialized tests, techs are officially NATE-certified.
To maintain their certifications, technicians must undergo re-training and tests every two years. So, you can rest assured that if you hire a NATE-certified technician, the certification is fresh and not obtained a decade ago without updating.
Five Benefits of Hiring a NATE-Certified Technician
You Get Guaranteed Excellent Experience
If you've ever hired an HVAC contractor and been horrified by their lack of professionalism and basic knowledge of your HVAC system, rest assured this won't be your experience when you hire a NATE-certified technician.
Technicians need at least 2-5 years of HVAC experience before even qualifying to take the NATE certification exams. On top of this, once a tech achieves NATE certification, they must complete a certain amount of ongoing training every two years to keep the certification valid.
All that said, all NATE-certified technicians who walk into your home are professionals who have had years of experience working on various HVAC systems and models. They've passed rigorous exams and are constantly training to keep their knowledge and skills up to date.
You Get Faster and More Efficient Service
NATE-certified techs know their way around HVAC systems of all brands and models. They've been tested extensively on the complexities and variables that come with different kinds of HVAC systems. When it comes to your HVAC needs, they're more likely to find and diagnose your issue faster than non-certified techs.
And chances are, they'll arrive at your home with the parts and tools needed to get the job done based on your over-the-phone description of what's wrong. With all the right tools and equipment, they're more likely to correct the issue in a single visit. Compare that to a less knowledgeable technician who may not have the skills to determine which tools might be needed and therefore may need to make several trips to get the job done.
You Get a Service Job Done Right the First Time
An accurate diagnosis of what's wrong with your HVAC system is the first step to getting the job done right. Techs who aren't certified are less likely to diagnose a system the first time around accurately. Often, this leads to expensive repeat work and a second (or third) visit to attempt to resolve the issue.
On the other hand, a technician who has undergone and passed the NATE exams is deeply familiar with the inner workings of your HVAC system and will have detailed technical knowledge. For example, from knowing the appropriate "Delta T" for your specific system to identifying higher-than-normal discharge pressures in your refrigerant system, you can trust a NATE-certified technician's knowledge. They can more accurately diagnose and resolve your HVAC issue correctly on the first visit.
You Save Money in the Short and Long Term
Hiring a NATE-certified technician can save you money on the immediate job, as well as save you money every month in operation costs and over your unit's lifetime.
Like we mentioned above, a NATE-certified technician has a higher likelihood of quickly and correctly diagnosing your HVAC issues. Their knowledge prevents any expensive repeat work and eliminates the risk of shoddy repair work by an inexperienced technician. And if you need a system replacement, hiring a NATE-certified professional to install your HVAC system means hiring a professional who will select the correct sized equipment and install it properly, safely, and correctly.
Whether you need a repair or installation, consider the long-term savings of hiring a NATE-certified technician. A certified technician will ensure that your system runs properly and efficiently, saving you money every month on utility bills. They will also alert you of any issues that might turn into expensive repairs later and advise you on how to maintain your system, which can save you from spending thousands on a system that dies prematurely.
You Get Peace of Mind
The NATE certification has national recognition as the gold standard for HVAC training. Hiring a NATE-certified tech means you're hiring a professional who is constantly training and developing their skills.
When you hire a NATE-certified professional, you get the peace of mind that you're getting the highest quality of service.
And if you find a company that requires all their technicians to be NATE-certified, it's a clear sign that the company invests in their reputation and service and that they're more likely to provide the best possible service.
Need a NATE-certified technician? Trust Four Seasons.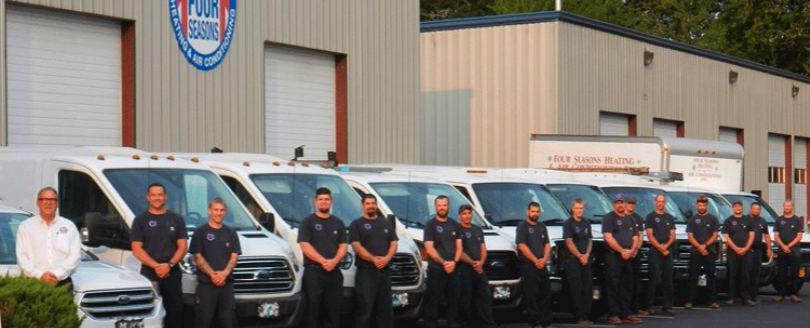 At Four Seasons, we require that all of our service technicians go through and achieve NATE certification. We've made this a requirement because we take our reputation seriously and strive to provide the highest quality service possible. Staying NATE-certified is the best way to keep our technicians' skills sharp and knowledgeable. Our hundreds of 5-star Google reviews can attest to our technician's technical abilities.
When you choose Four Seasons for your HVAC service needs, you'll get a highly-skilled NATE-certified technician, same-day service, and 2-hour appointment windows.
Schedule Repair