Can Rain Damage My HVAC System?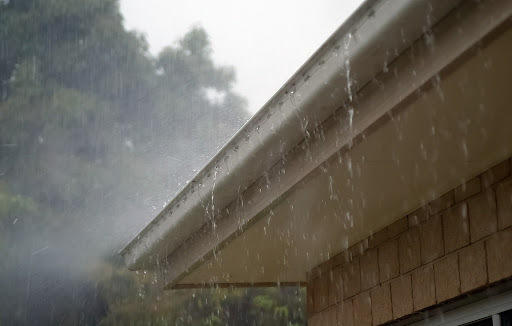 Portland's climate allows us to enjoy an impressive list of botanical gardens and farms, but there are some downsides to the healthy amount of rainfall that we receive each year. If you're worried about rain damage to your HVAC system, Four Seasons Heating and Air Conditioning is here to ease those fears.
Rain should not damage your HVAC system directly. Even when we receive an intense thunderstorm, the falling rain isn't likely to leave you needing emergency HVAC repair.
The catch is that the rain can cause conditions that are potentially damaging to your outdoor HVAC unit, including:
Standing water around your outdoor unit
Storm debris lodged in your outdoor unit
To protect your unit from potential dangers caused by heavy rainfall, let's review the above factors, along with further detail on:
Why you shouldn't cover your outdoor unit
The importance of routine HVAC maintenance
---
Need an HVAC Professional You Can Trust?
Call the experts at Four Seasons Heating and Air Conditioning at 503-538-1950. Our NATE-certified technicians are ready to provide honest diagnostics, efficient repairs, and fast scheduling with convenient 2-hour appointment windows.
Schedule Repair
---
Standing Water Around Your Outdoor Unit
Rain is not a problem for your HVAC system as long as it falls over the durable casing of your outside unit. It should absorb into the ground or run in a different direction. The danger comes when rain collects around your outside unit, creating a deep puddle of standing water.
A low puddle isn't likely to cause damage, but you should start to worry if it reaches around a foot deep. Getting above that point could lead to water seeping through the exterior vents of your outdoor unit. Storm Debris Lodged in Your Outdoor Unit.
In the unlikely event of major flooding, or if you notice a significant amount of water puddling around your outdoor unit, turn your HVAC system off immediately. Then, do what you can to move water away from your unit as much as possible.
If standing water has infiltrated your outdoor unit, call a licensed HVAC contractor for a thorough inspection. Depending on the grading of your property, you may want to improve the flow of drainage around your outdoor unit or establish a whole new pad for it to sit on.
Storm Debris Lodged in Your Outdoor Unit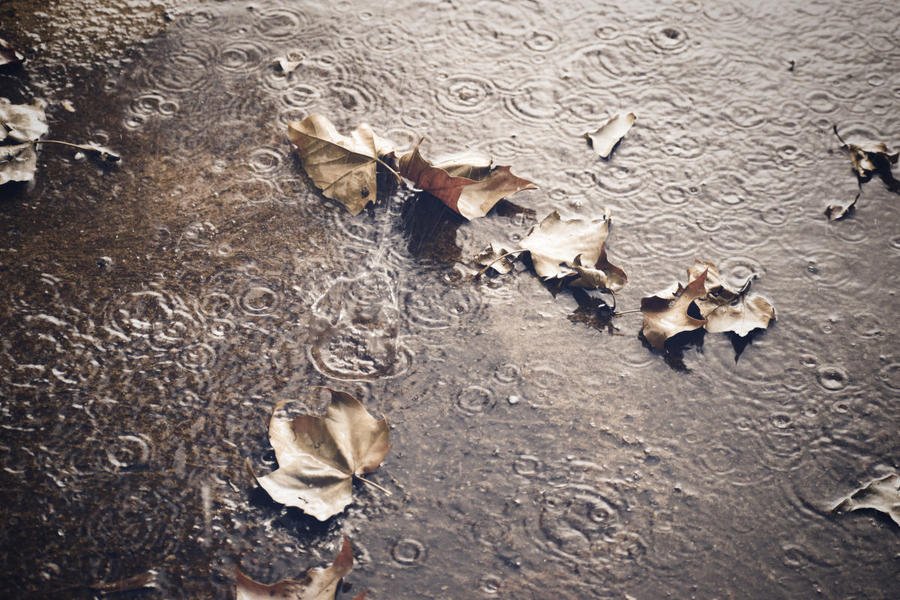 During a heavy rainstorm, strong winds will push around tree branches or other pieces of vegetation that can get stuck in your outdoor HVAC unit. If this occurs, you could risk damaging your motor, fan, or other internal components.
If you hear banging or clicking noises coming from our outdoor HVAC unit after a storm, cut power to your system off right away. Something has likely gotten lodged inside. While this doesn't always lead to a substantial HVAC repair, you should at least allow an experienced HVAC technician to inspect and clean your unit. You don't want to let small issues snowball into expensive problems down the road!
We recommend keeping landscaping within two or three feet of your outdoor unit as a best practice. Keep bushes trimmed back if they start to infringe on that space, and be mindful of trash or recycle bins nearby. These items aren't large enough to get inside your HVAC system, but garbage or recyclables may blow into the unit.
Why You Shouldn't Cover Your Outdoor Unit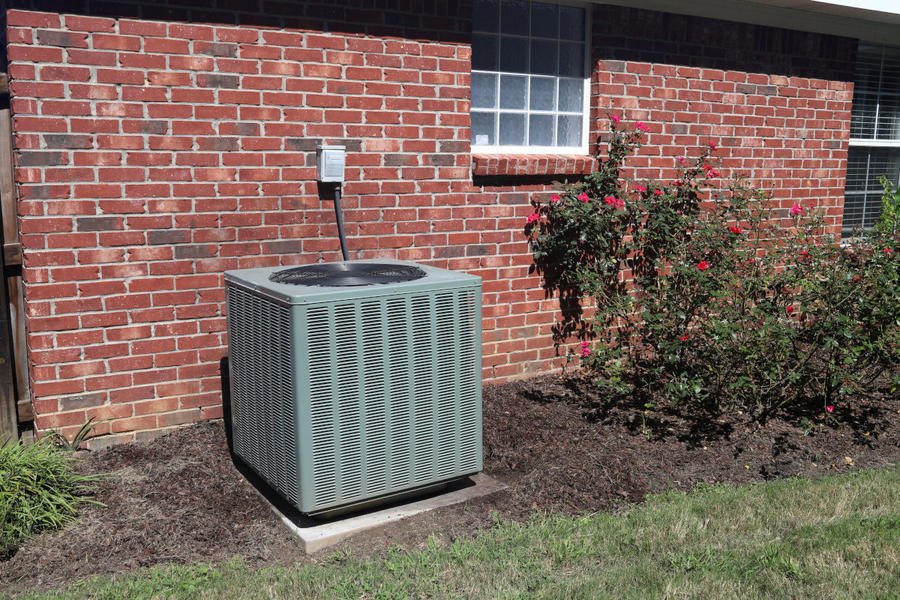 Covering your outdoor unit during intense downpours may seem logical, but it can actually do more harm than good.
For example, we've seen that some homeowners will put a tarp over their outdoor unit to protect against severe weather. This restricts the necessary circulation of airflow throughout your system (which is crucial for healthy and efficient operations). The tarp can trap moisture inside your system, leading to potential mold growth. Coverings are also welcoming to rodents and other critters seeking shelter from the rain.
Rather than covering your outdoor unit, we recommend simply checking on it after intense downpours. Listen for unusual sounds, look for signs of trapped debris, and make sure water is draining away from the unit efficiently.
The Importance of Routine HVAC Maintenance
One of the best ways to protect your HVAC system— rain or shine—is to schedule routine maintenance with trusted professionals.
When a licensed and qualified pro has a chance to inspect your equipment inside and out, they'll make sure your system is primed to handle whatever weather conditions arrive. Furthermore, you'll keep your manufacturer's warranty intact, lessen your energy bills (and footprint!), and have peace of mind that you're safeguarded against unexpected breakdowns or repairs.
At Four Seasons Heating and Air Conditioning, we take pride in providing the best quality HVAC maintenance in the Portland metro area. Our NATE-certified technicians will thoroughly inspect and clean every aspect of your system to improve efficiency, provide increased comfort, and make sure you get the most out of your system— and for as many years as possible!
---
Need HVAC Repairs or Maintenance in Portland? You're in Good Hands with Four Seasons.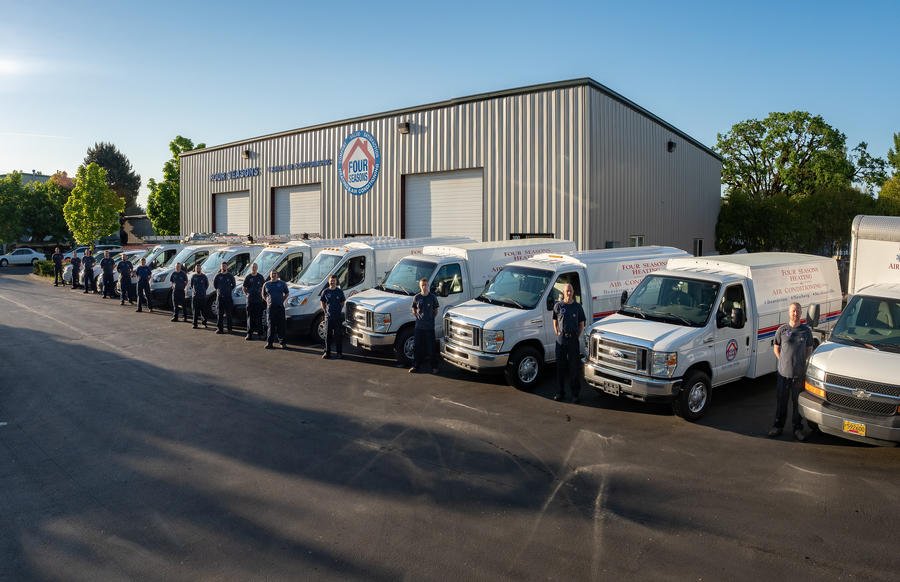 At Four Seasons Heating and Air Conditioning, all of our technicians are honest, experienced, and NATE-certified (the highest level of industry training possible). When you call us for HVAC repairs or maintenance, rest assured we'll provide you with cost-effective solutions, impeccable workmanship, and a guarantee of 100% satisfaction. Plus, we make scheduling a breeze with fast response times and 2-hour appointment windows. Give us a call at 503-538-1950 to see for yourself why we've earned hundreds of 5-star Google reviews from Portland homeowners.
Schedule Service Today!
---
Similar Articles: